About what I do
What do I do? Take a closer look…
Web
My designs are simple, clean and elegant. Previous work ranges from websites for small businesses, to creating and managing online identities for market-leading brand names, both get my equal attention.
Website design
HTML email design
Front-end website development work
CMS integration
E-Commerce
Website hosting
Search Engine Optimisation
Consultancy and advice
Print
Whether you just need some business cards or a complete branding overhaul for your business, my use of typography, illustration and layout will produce stunning and effective results.
Branding
Business cards
Promotional flyers / invites
Book / Magazine layouts
T-Shirts
Exhibition stand design
Illustration
Black and white ink illustration work. Yes – that's my style. Raw pen and ink work. I often combine my illustration work with print / web design to produce suitably inspired artwork for clients.
Promotional flyers
Book illustrations
Maps
T-Shirts
Pricing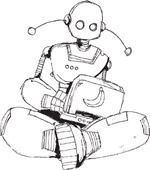 I believe every client's project has its own individual needs, and therefore it is impossible to pigeon-hole work into predefined fixed prices. My pricing is structured, but calculated on a project-by-project basis.
If you want to discuss a project and find out rough costs, by all means get in touch, I'd love to hear from you.